This section gives information of the Directors and Producers who are directly or indirectly associated with Medifit Films or worked with Medifit Films.
1) MR BHARAT JAGDISHCHANDRA JOSHI – Roxan Global
Entrepreneur | Business Tycoon | Film & Music Producer | Bollywood writer
2) VIRENDRA RATHORE – Join Films
Producer | Director | Writer
3) SUJEET KUMAR SINGH
Film Director
4) ASHU JAIN
FILMMAKER | MULTI-CAM DIRECTOR
5) SRIVINAY SALIAN
Writer| Filmmaker | Brand Strategist
*********************************************************************************************************
1) MR BHARAT JAGDISHCHANDRA JOSHI
Entrepreneur | Business Tycoon | Film & Music Producer | Bollywood writer
ENTREPRENEUR:
Mr Bharat Joshi is business tycoon, Owner of Roxan Group of companies, situated in China.
WRITER:
Apart from production business, Mr Bharat Joshi is attached to entertainment industry through his unique art of writings. He is Story writer and Lyricist in Bollywood.
BUSINESS NETWORK:
Mr Bharat Joshi expanded his business all over the world, having network in India, China, Hong Kong, South Korea, Thailand, South Africa, London, Canada etc.
BOLLYWOOD FINANCING:
In India, Roxan is into Entertainment and Infotainment business.
Roxan is basically into Financing of
Film Production,
TV Serial production,
Theatre plays production etc.
………………………………………………………………………………………………………………………………………………………………………..
2) VIRENDRA RATHORE – Join Films
Producer | Director | Writer
INTRODUCTION
VIRENDRA RATHORE IS A SEASONED FILM PRODUCER WITH OVER 2 DECADES OF EXPERIENCE IN CREATING QUALITY PRODUCTIONS FOR THE SILVER SCREEN.
Virendra Rathore is the founder of JoinFilms (www.joinfilms.com), which strives to guide and mentor young talents pursuing a career in Bollywood via the popular youtube channel – Virendra Rathore's Filmy Funday.
ENTERTAINMENT INDUSTRY
He has vast experience in Entertainment field for more than 20 years. He started his career as a writer and director of various commercial ads and tele-serials namely Dance Masti, Khatta-Mitha for Doordarshan. He is also engaged with stringer ship for Ankho-Dekhi (Doordarshan).
PRODUCTION COMPANY
In 1999, He floated his own production service company, Joinfilms Productions(www.joinfilmsproductions.com), which is an established organization engaging in advertising, film making and telecasting. Virendra in his vast years of experience has garnered knowledge of each and every aspect of the Film and Media Industry. He is the one-man information resource to anything pertaining films and filmmaking.
……………………………………………………………………………………………………………………………………………………………………..
3) SUJEET KUMAR SINGH
Renowned Bhojpuri Film Director
DOB: January 02, 1973
Sujeet Kumar Singh is a famous Bhojpuri Film Director.
BIRTH PLACE:
Sujeet Kumar Singh was born in Muzaffarpur District of Bihar state.
BOLLYWOOD ENTRY:
In 1992 he came to Bombay (now Mumbai) to become Film Director. He started his career in Bollywood industry at the early age of 19 years.
Sujeet Kumar Singh worked as Junior Artist for almost 2 years – 1992 to 1993.
WITH HEMA MALINI
Worked twice with Hema Malini for almost 4 years as Assistant Director.
From 1994 to 1996 and again from 1998 to 2000.
AS ASSISTANT DIRECTOR
Sujeet Kumar started his career as a Assistant director for Hindi movies with Director Mr Hamid Ali (Director of AA GALE LAG JA). Here he assisted for 2 years.
Worked as Assistant Director to Producer, Director Vipul Shah from 1994 to 1996.
Assisted Director  Mr Anil Ganguly from 1996 to 1997.
ASSOCIATE FILM DIRECTOR
Sujeet Kumar Singh worked as a Associate Film Director in Bhojpuri Film Industry for almost a decade from 2001 to 2010.
ASSOCIATE + TECHNICAL FILM DIRECTOR
For half a decade, Sujeet Kumar Singh worked as Associate and Technical Director in Bhojpuri Film Industry from 2010 to 2015.
INDEPENDENT DIRECTOR
2015 onwards Sujeet Kumar Singh started working as Independent Director and now he is famous for his renowned name in Bhojpuri Film Industry.
HATTRICK RECORD
Directed Actor and Singer Pawan Singh and created hattrick by giving 3 back to back super hit movies in year 2016 and 2017. This shocked the whole Bhojpuri industry.
………………………………………………………………………………………………………………………………………………………………………
4) ASHU JAIN
FILMMAKER | MULTI-CAM DIRECTOR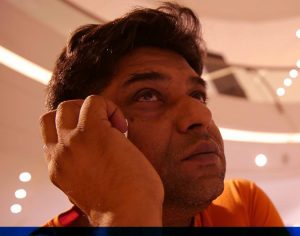 Ashu Jain is a known name in the Indian Television Industry. He earned his fame for being the most sought after multi-camera director of the pioneer reality dance TV Series – "Boogie Woogie" and several other shows including "Kaboom", "Paisa Wasool" and "Bathroom Singers".
His experience and expertise span beyond direction. Over the years, he has been involved in and overseen the production of several other notable projects including the popular ones. He has also earned several Television awards and recognitions as director & editor. He's a master storyteller with a flair for creating content from real and impromptu situations.
Over the years, he has done all sorts of projects ranging from Brand Videos, Corporate Films, Music Videos, Reality  Shows, TV Shows amongst others.
…………………………………………………………………………………………………………………………………………………
5) Srivinay Salian
Writer| Filmmaker | Brand Strategist
Srivinay Salian is a multidisciplinary writer & filmmaker, with a flair for conceptual and layered storytelling. He has written for print as well as media garnering 8+ years of experience writing for ad films, TV shows, documentaries, short films, corporate films and feature films.
From writing, he made a natural progression towards film-making and has since produced short films, documentaries, and even an international feature film. His short film titled – "Stripped" has been a viral hit and covered by media both online and print. He makes unconventional experimental short films such as – "Main Hindustan Hoon – I am India", exploring patriotism through a spoken poetry genre and "Tezaab", a conceptual social drama revolving around guilt of perpetrator post Acid Attack. His Short Film, "Blue Brave Heart", touching the subject of chronic heart disease in children, was featured on NDTV Prime.
With a background in Marketing and Technology and his exposure to various domains and industries has led him to serve as a Brand Strategist creating Branded Content for his clients. He's currently a "Creative Director" at a film production company, leading a team of skilled professionals to develop all sorts of media and digital content.
Online Profiles:
https://en.wikipedia.org/wiki/Srivinay_Salian
http://www.imdb.com/name/nm4015368/
………………………………………………………………………………………………………………………………………………………………………..